What Schools Don't Teach You: the 10 Most Important Lessons For Life
Bestselling Author Hellen Chen's New Book Release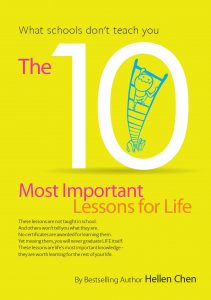 What Schools Don't Teach You:
the 10 Most Important Lessons For Life
Best-selling book in 4 categories:
#1 Bestseller in Inspiration
#1 Bestseller in Happiness
#1 Bestseller in Personal Growth and Self-Improvement
#1 Bestseller in Business Life and Skills
These lessons are not taught in school.
And no one will ever teach them to you.
No certificates are awarded for learning them.
But if you don't learn them, you will never graduate LIFE itself.
These lessons are the most important knowledge you should have.
They are worth learning for the rest of your life!


A Word from the Author Hellen Chen:
The lessons one need to learn in life, is of course not limited to the contents of this book. In actual fact, there are many lessons you have to learn, the topics which differ from one person to another, depending on individual needs.
Some knowledge is extremely basic and some is advanced.
However, as long as we are dealing with a human being, the needs and wants are quite similar.
One grows up, enters schooling, receives education and at the same time experience group activities, explores personal interests and goals. Then one encounters marriage and family life, raises children, takes care of the elderly at home, and deals with career competiveness and various challenges of making a livelihood.
Throughout the entire journey, one experiences all emotions — happiness, anger, sadness – and failures, successes and ups and downs.
All these made us realized there are more basic lessons to learn in life than our academic lessons.
Who does not wish to have freedom, to have self-discipline and pride in one's actions?
But due to unethical behaviors, plus ignorance and incompetence, one will gradually walk into the dead ends of life – losing hope, becoming more depressed, and losing zest and interest in all aspects of life.
However, there are ways one can learn on how to overcome these problems!
No matter how serious the problem is, it can be fixed. As long as you posses the right knowledge, life will become different from this point onwards.
This book provides  the readers very simple-to-understand basic lessons. Each chapter is a very interesting philosophic class in itself.
All these topics are subjects which people have often thought about. You can explore them  yourself and you can also discuss with friends who have read this book too – thus continue to think about how to use the concepts in life.
I believe, whether you are already successful or not, or merely getting started on your life's journey, as long as you have read this book, the book's contents will definitely be of help to you. And it will bring you unexpected pleasant surprises.
There is an old saying: if you only believe everything in books, it's better to have no books.
No matter how reasonable the concepts in the book are, you have to believe in yourself first.
By the means of self-improvement, you learn, observe and experience more.
With mutual encouragement, I wish for us to be masters over each of our own wonderful lives.
Hellen Chen

At the first preview of this book, here are what readers say:
"Amazing!! Hellen covers lessons which we have not thought about and yet are very important to living a happy life!" — Tanya J, CFO
"I will use this book to teach my students concepts about life which our textbooks don't cover. I highly recommend this book to all parents and teachers." — Joseph P, Counselor
"Read this book if you want to become your own best friend!" – Susie W, Advertising Manager
"This book contains secrets of being successful and happy which few self-improvement books have covered." — Vivian C, Custom Service Executive
"Prepare to be surprised! If you are looking for boring philosophical lessons, you won't find it here." — Alan C, Life Improvement Consultant
"If you want to know how to make your life interesting, fun, happy and meaningful, read this book." — Catherine Z, Executive Director

About Hellen Chen
Hellen Chen's work in family, marriage and personal developments are featured in over 200 media publications in 20 countries including USA, Taiwan, China, Spain, India, Singapore, Finland, United Arab Emirates etc. She has been a frequent guest on independent and network radio programs and TV shows on FOX, CBS, NBC and ABC etc.
"…covers the secrets to living a successful life where no other self-improvement books have."    – International Business Times
"…teaches a person how to win in his or her endeavors in enormously satisfying and fulfilling ways."  – Boston.com
"Chen provides the formula to life's success."   – Houston Chronicle
"…an in-depth guide to the skills one needs to have in order to succeed and be happy." – Los Angeles Daily News
"…in a competitive society where career and work come first, Chen talks about establishing a family as the first step…"   – EFE [Largest Spanish News Network]