"Marriage is the most reliable home for love, and is also
the most beautiful stage for love."
3-Times Bestselling Author, Relationship Master,
International Speaker Hellen Chen
The Missing Love Manual that Makes Your Relationship Last
About the Author and Relationship Master Hellen Chen
Hellen Chen's work in family, marriage and personal developments are featured in over 200 media publications in 20 countries including America, Taiwan, China, Spain, India, Finland, United Arab Emirates, etc.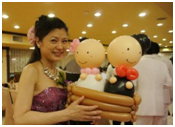 She has worked with top CEOs, business owners, doctors and skilled professionals who would like to make a difference in their relationships with their better halves.
Chen has been a frequent guest on US network radio programs, and TV shows on FOX, CBS, NBC and ABC etc.
As a #1 bestselling author, Hellen has written 26 books so far.  One of her most popular books, "Love Seminar", became a best seller on Barnes and Noble in 7 categories:
#1 Bestseller in Marriage
#1 Best Selling book in Relationships
#1 Best Selling book in Dating
#1 Bestseller in Love & Romance
#1 Bestseller in Divorce
#1 Bestseller in Self-Help (Paperback)
#1 Bestseller in Parenting & Family
Dear Hardworking Professionals,
When we were in school, many of us have been taught that academic achievements would get us a secure job and a chance to "make it" in the working world.
Thus the most important lessons have always been academic lessons.
Some of us are encouraged to take lessons to pursue our interests -- whether it is pursuing sports or arts or just developing an entrepreneur mind etc.
After we have stepped into the working world, career usually becomes the most important aspect of our life -- after all, the pressure to make it in most professions is huge.
"Chen shares the biggest secret
to make a relationship lasting and deep..."
-- ABC News
Here are a few questions:
Have you ever learned about how to love your spouse deeper every year regardless of how long you have been married?
For singles or divorcees, have you wondered why some relationships of yours last and some don't? [And how you should not place the bet that the next partner will be better...until you learn about the Number One "partner selection" mistake most people make!]
Have you ever considered that -- no matter how "obvious" another person may be at fault -- the real problem may actually lie in YOU?
Here is what you will learn:
What is the secret to a successful relationship?
What is the common problem behind hardships in marriages?
What is the best way for a man to impress a girl?
Why focusing on whether a potential marriage partner is good-looking or plain, rich or average income is "unproductive?"
If someone says "I like you. But I cannot be with you." What does this mean?
What is the most irritating thing a man could do to upset a woman?
What is the biggest mistake women make in their relationship?
What should you do if the person whom you have asked to marry you gives you an indefinite answer?
What would become of "beautiful women" who cannot get married?
Are "similar values" important while choosing a partner?
Should a person achieve financial stability first before getting married?
Hellen Chen's Love Seminar Book is specially tailor-made for successful working professionals to pick up the most important love lessons that they have missed.
You have taken lessons for your profession. Now is the time to take the life-long lessons for being a lover, a husband, a wife and/or a parent!
Hellen Chen's work is featured in over 200 media publications in 20 countries: